Pulsed Electromagnetic Field Therapy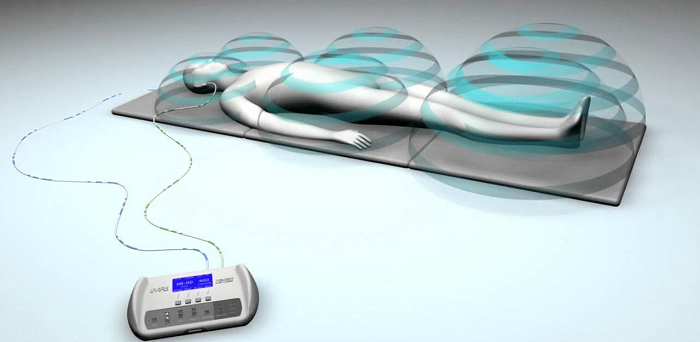 PEMF Therapy
PEMF Therapy pulses a magnetic field into the body, creating an extraordinary healing effect by re-energizing damaged cells. PEMF Therapy is FDA approved and has been used for 20 years in Europe helping individuals who experience migraines, sports injuries, in addition to other pain syndromes. It does everything from regenerating damaged and diseased tissue to repairing torn tendons and fractured bones. It does this by:
Improving circulation by opening arteries and capillaries
Increasing oxygen levels in your cells
Reducing pain, swelling and inflammation
Stimulating endorphins and serotonin for cellular repair
Working as a catalyst in increasing bone density and muscle mass
The benefits of PEMF Therapy does so much to restore your cells to their normal healthy state that it also makes your immune system stronger and helps your body rid itself of impurities that toxify it. It will speed up your recovery time without any side effects. So if you suffer from chronic discomfort or have a sports injury or want to improve your athletic performance, pulsed electro-magnetic field therapy will bring your body back to optimum health.
Decreases:
Pain
Stiffness
Swelling
Inflammation
Edema
Spasms
Stress
Bruises
Contusions
Increases:
Circulation
Energy to Cell
Cell Hydration
Bone Density
Lean Muscle Mass Flexibility
Range of Motion
Stamina
Strength
Endurance
Immune System
Nerve Response
Muscle Response
Lancet. 1984 Mar 31;1(8379):695-8.
Pulsed electromagnetic field therapy of persistent rotator cuff tendinitis. A double-blind controlled assessment.
Binder A, Parr G, Hazleman B, Fitton-Jackson S.
Abstract
The value of pulsed electromagnetic fields (PEMF) for the treatment of persistent rotator cuff tendinitis was tested in a double-blind controlled study in 29 patients whose symptoms were refractory to steroid injection and other conventional conservative measures. The treated group (15 patients) had a significant benefit compared with the control group (14 patients) during the first 4 weeks of the study, when the control group received a placebo. In the second 4 weeks, when all patients were on active coils, no significant differences were noted between the groups. This lack of difference persisted over the third phase, when neither group received any treatment for 8 weeks. At the end of the study 19 (65%) of the 29 patients were symptomless and 5 others much improved. PEMF therapy may thus be useful in the treatment of severe and persistent rotator cuff and possibly other chronic tendon lesions.
PMID:
6143039
[PubMed – indexed for MEDLINE]
*****
Connect Tissue Res. 2001;42(4):269-79.
Effects of pulsed electromagnetic fields on human articular chondrocyte proliferation.
De Mattei M1, Caruso A, Pezzetti F, Pellati A, Stabellini G, Sollazzo V, Traina GC.
Author information
Abstract
Low-energy, low-frequency pulsed electromagnetic fields (PEMFs) can induce cell proliferation in several cell culture models. In this work we analysed the proliferative response of human articular chondrocytes, cultured in medium containing 10% FBS, following prolonged exposure to PEMFs (75 Hz, 2.3 mT), currently used in the treatment of some orthopaedic pathologies. In particular, we investigated the dependence of the proliferative effects on the cell density, the availability of growth factors and the exposure lengths. We observed that PEMFs can induce cell proliferation of low density chondrocyte cultures for a long time (6 days), when fresh serum is added again in the culture medium. In the same conditions, in high density cultures, the PEMF-induced increase in cell proliferation was observed only in the first three days of exposure. The data presented in this study show that the availability of growth factors and the environmental constrictions strongly condition the cellular proliferative response to PEMFs.
PMID:
11913771
Schedule Your Assessment 
Call (917) 748-2902 or Complete the Form Below and We Will Contact You Shortly.
Any information submitted will be forwarded to our office by email and not via a secure messaging system. This form should not be used to transmit private health information, and we disclaim all warranties with respect to the privacy and confidentiality of any information submitted through this form.
Recent Posts